Fish and Phones: A timely and necessary affair unifying fish traders, policy makers and scientists
Fish and phones might be what Malawi needs to organise its fishery sector. The country is endowed with extensive waters that cover about 20% of the country's area translating to 120,000 km2, and fish are one of its major commodities. In 2021, fisheries were estimated to have contributed a total of 7.2% to Malawi's GDP (Gross Domestic Production) and employed about 700,000 people either directly or indirectly. Fish are also the main source of animal protein, contributing over 40% of the national dietary animal protein intake and over 20% of the total protein supply. Studies show that the small-scale fisheries sector accounts for 90% of Malawi's total fish production and other aquatic foods. Due to their wide availability and affordability, small, dried fish are the most consumed form in Malawi, reaching 76% of poor rural households that live far from fisheries. Without doubt, the fishery sector directly impacts the biodiversity, human economic activity, livelihoods, and food security of the country. A matter of fact, this becomes much more complicated and a mammoth management task for the government and policy makers in policing this sector in such a way that everyone involved and everything that relies on this resource is happy.
The Chip on the Shoulder Around the Malawian Fisheries Sector
Troubles around the fishery sector are not new to Malawi. A 2016 study by University of Malawi scientists well documented the rising conflicts between and among fishing communities, fisheries extension/enforcement officers and policy makers due to fishing activities and their management in the country. It has been reported in the past that in some instances officials clashed with fish traders who bitterly complained about unfairness and over regulations that suffocated their businesses. The study delineates that some conflicts "led to hospitalization of fisheries extension/enforcement officers, damaging of department of fisheries resources (vehicles, infrastructure) and immediate transferring of fisheries staff from highly volatile conflict zone in cases where their safety cannot be guaranteed".
In 2021 the Africa Portal reported that "Unfortunately, there is evidence of extreme overfishing, with 50% more craft than should be the case for maximum sustainable yield. Almost 90% of all nets used are illegal, with mesh sizes that are too small, capturing juvenile and spawning fish which curtail the reproductive capacity of fish species". The study advises that a lack of an effective and sustainable intervention can put pressure on the biodiversity of the lake and the environment. Overfishing and a prioritisation of profits and pushing for the GDP growth and contribution by this sector can lead to the depletion of fish and irreversible aftereffects.
Besides fish conflict in the lakes, there are other challenges such as lack of market access and lack of timely market data that is reported to have negatively affected fish traders' livelihoods and made it difficult for policy makers and development partners in Malawi to support a functional value chain that is sustainable and equitably benefits all those involved. In addition to the challenges of over fishing, conflicts over fishing territories and policing the sector, one area that is usually overlooked is lack of systematic information on the number of fish traders, where they are trading, prices and price variation which stifles and undermines research and informed policy making. But how do you achieve the delicate balance that pleases the fishers to continue making enough money for their livelihoods, families that rely on the fish protein, and the government that wishes to see the growth of the economy and sustainability of the fish sector? Where do you start?
A Timely Intervention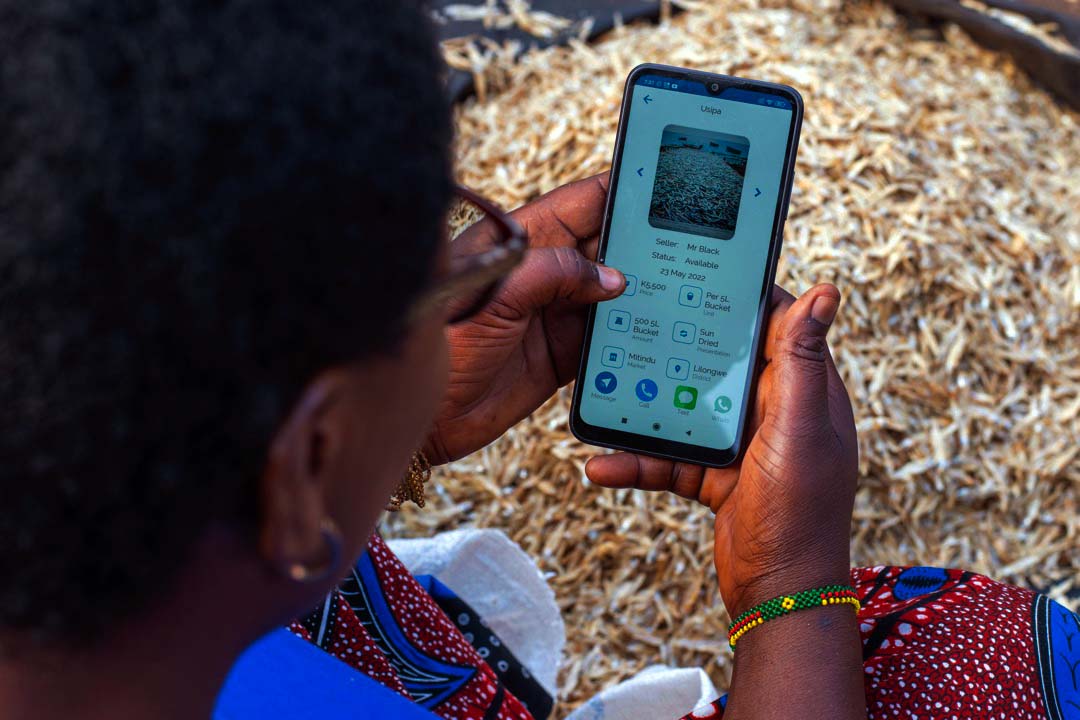 There is no all-in-one pill that can solve this problem. It requires an integrated approach that considers the interconnected benefits for all players within the ecosystem. In a mission to contribute to better management of the Malawian fisheries, a team of scientists from Michigan State University (MSU) and Lilongwe University of Agriculture and Natural Resources (LUANAR) have collaborated through an Alliance of African Partnership funded Partnerships for Innovative Research in Africa PIRA initiative, have made a crucial step towards building a functional, integrated, and equitable ecosystem. The team has collaboratively been busy in the past four years developing a digital mobile application that will enable trade among communities, gather real-time data, and inform policy development, while advancing communities to greater benefits. This innovative and collaborative work is bridging substantial knowledge and data gaps across many issues of pricing, sustainability, market information, and gender equity and empowerment in the food system. It will simply require fish sellers and buyers to have fish and phones and licensing officials to a computer system that monitors and regulates the trade.
In Dr Samson Katengeza's words, who is the Director of Research Outreach and a Senior Lecturer at LUANAR, "through the data gathered in the project, analysis on marketing shows a significant difference between female and male traders in the selling prices and marketing margins, showing that on average, women receive 56% lower marketing margins than men". The continuous data collected from the mobile phone app is expected to guide policy makers to easily design policy instrument to improve equity in Malawi's fish value chain. One of the traders, at Jette Market, is happy that the Mobile Application is a timely development as "Information about prices, information about quantity of fish, and information about transport costs are needed for our business to succeed"
The four-year collaborative work provides an opportunity to develop a holistic 'fish-food-system' perspective that recognizes the interconnectedness of fish production, and the ecosystems that depend on it, through to processing and distribution to consumers, as well as the cross-cutting role of inclusiveness and gender equity. Dr. Abigail Bennett, an Assistant Professor of Fisheries and Wildlife at MSU reckons that the work that they have done so far on the mobile app "will enable diverse stakeholders from across sectors to collaboratively design and pursue evidence-based interventions to improve fish trader livelihoods."
In their recent engagement sectoral stakeholders meeting in Mangochi, Malawi, they discussed pathways to advance the project including piloting the market app and scaling to different regions. A government official, the Principal Fisheries Officer from the Department of Fisheries, David Mbamba was captured by local media (The Nation), shared his relief that this is a welcomed development as "Fishers could have stock, but did not know where to sell them. Likewise, the buyers had been looking to buy the fish, but did not know where to buy fish. Now with this application it will be easy for the two ends to get connected, including the buyers knowing the prices in advance".
Regional Scaling
While this is an innovation addressing Malawian problems, the challenges of fisheries are not unique to Malawi only. Just across, on the other side of the lake lies the country's boarder with Tanzania. Tanzania is also faced with similar challenges of managing the fisheries sector. While it may differ from country to country, this is a step to understanding the ecosystem and its key actors better. It is worth noting that this Malawian project paves way and adds to the existing efforts towards the attainment of the Sustainable Development Goals (SDGs) as it organises data gathering and strengthens research for informed policy and decision making in many areas such as food, education, climate change and many other areas in Africa.