A Holiday to Connect: VIPP Participants Share Thanksgiving with Local Families
VIPP participants and their families enjoyed the opportunity to celebrate American Thanksgiving and make new friends with VIPP's Thanksgiving Home Hospitality event.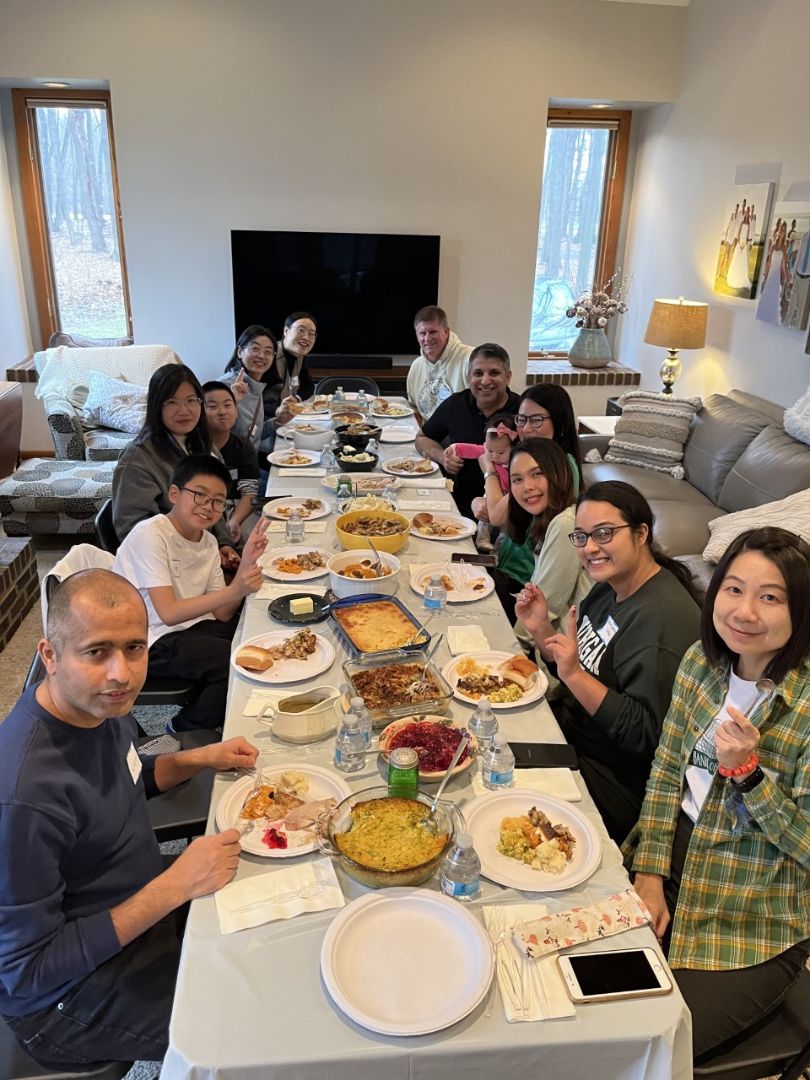 In November 2022 the Visiting International Professional Program organized its very first Thanksgiving Home Hospitality. VIPP scholars and their families from China, Korea, and Kazakhstan were paired with local Lansing-area families who invited them into their homes for dinner, conversation, games, music, and traditions. The participants enjoyed meeting their hosts' families and pets, seeing their homes, and experiencing a traditional American Thanksgiving, whatever that might look like for each family! They learned that Americans celebrate Thanksgiving in a variety of ways, but that enjoying the company of friends and family, and sharing delicious food are cornerstones of this holiday. Many of the participants introduced a bit of their own culture to the celebration by bringing a traditional dish to pass from their home country.
The participants were touched by their hosts' enthusiasm, excitement to learn about other cultures, hospitality, and warmth. VIPP scholar from China, Hanbing Wu, said of her home hospitality experience, "The host is hospitable, kind and lovely. While our host came to meet us in Spartan Village, our hostess prepared the day's food and set the table with fine cups and bowls. During the dinner, we exchanged and shared happiness. After dinner, we went downstairs. Some people were playing guitar, some were playing ping-pong, and the host showed us family photos. What a warm and happy day. It was like being at home, calm and beautiful. Thank you for your hospitality."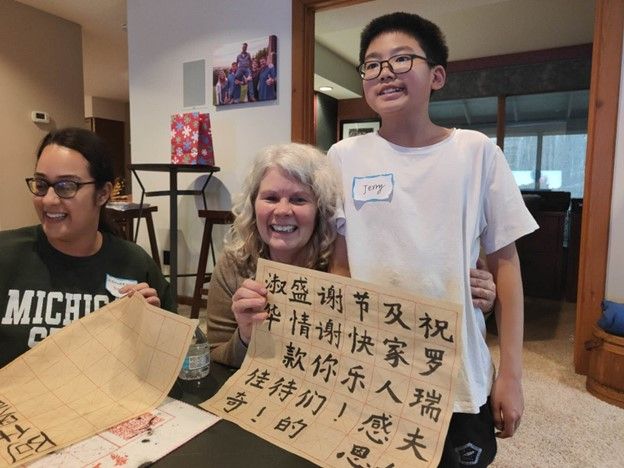 Jerry, the 11-year-old son of VIPP scholar Shuhua Wang, reflected on the holiday meal prepared by the host, "It's time to eat, we came to the long table to eat with everyone. Lori made delicious roast turkey, sweet potato pie, pumpkin pie and mashed potatoes, and many other delicacies. We expressed our gratitude to the host in English: thanks to the family, thank you for giving us a happy evening!"
Part of VIPP's mission is to facilitate cultural exchange with the local community, so we are excited to be able to provide this new event, which we hope grows into a Thanksgiving tradition! We are so grateful to the host families who made this event possible, and that they were so gracious in opening their homes! Many of the participants and hosts plan to continue their relationship and meet again in the future, and are thankful to have made this international connection during the Thanksgiving holiday.
Check out the VIPP Thanksgiving slideshow to see more pictures from the event!