BLOG: 2023 Annual Diversity Research Showcase
A Student's Journey from Theatre Major to Diversity Research Showcase Presenter
Once a year, Michigan State University's Annual Diversity Research Showcase features undergraduate student work, completed and in-progress, on issues of diversity that advance inclusion. Appearing first in 2017 and sponsored by Michigan State University's Honors College, College of Arts and Letters, College of Social Science, Undergraduate Research, and Office for Institutional Diversity and Inclusion, the showcase aims to provide students a space to discuss their research with peers, faculty, and staff. In 2023, I entered a submission into the showcase.
In 2020, I began to pursue a degree in Film Studies at MSU, but I quickly changed my major to a Bachelor of Fine Arts in Acting. I realized very quickly that I wanted more involvement with the character over the aesthetic of the tech. Theatre was an incredibly wonderful and welcoming environment. I spent my first year and a half at MSU engaged in performance, getting inside a character's head, and understanding how the world and society affects them. I was incredibly excited to be immersed in acting, especially when getting into the background of a character.
However, I wasn't entirely satisfied by my choice, and it was only through the encouragement of my friends and advisor that I decided to take a history class on the Renaissance. Long story short, it was love at first lecture.
In the Fall of 2021, I made the decision, like many of my peers, to change my major again. Excited by the world of history, I quickly became enthralled by connecting my minor in Women's and Gender Studies to the discipline. I found that connecting the methodologies I learned in my WGS courses connected me to history and allowed me to analyze it completely differently than how I perceived I would at first. In doing so I got to explore topics like gender and sexuality, but applied to how this has been affected and affects historical actors. Over the summer I had taken HST 201, a research-based introductory course to theory and methodology of history, where I wrote my first fifteen-page paper.
I was intimidated at first, but very quickly became engaged in my topic of queer migration and how social factors contributed to it. While I look back at the paper now and know that today I could write something even better, that paper will always be incredibly important to me. That paper and the experience I had engaging in research built a solid foundation for me. Very quickly I realized there was nothing more that I loved than doing research, writing papers, and finding new ways to connect course content to my interests.
While I was unsure within my new field, I quickly found strength in the encouragement of my professors and friends. I began to look for ways to display my research, and more importantly I wanted to find an opportunity to display the first piece that made me fall in love with my major.
I was incredibly happy to find the Diversity Research Showcase. The associated staff and faculty were incredibly kind, accommodating and supportive. Every question I asked was answered promptly, and opportunities for further development supported by the event were widely spread.
In early December I received my acceptance and quickly began putting together a poster. While a little terrifying at first, the Diversity Research Showcase was a wonderful place to debut my work. I learned a lot about myself during the process: how to receive criticism, how to make use of my resources, and most importantly how to develop and foster mentorships with my former professors. Another bonus from the experience was the ability to look at my peer's posters and see how our research may connect despite being engaged in different disciplines.
While I may not have started incredibly confident in my abilities to compose research, doing this showcase gave me an opportunity to look back at a class assignment that I felt proud of, and in turn further develop my ideas in a supportive environment. I will be forever thankful for this experience and the opportunity to share the exact piece that changed my life.
If any student wants to look for ways to get involved in research but might be intimidated by outside journals, I can say from experience that MSU's Annual Diversity Research Showcase is a great place to start.
To view my presentation, visit The MSU Symposium.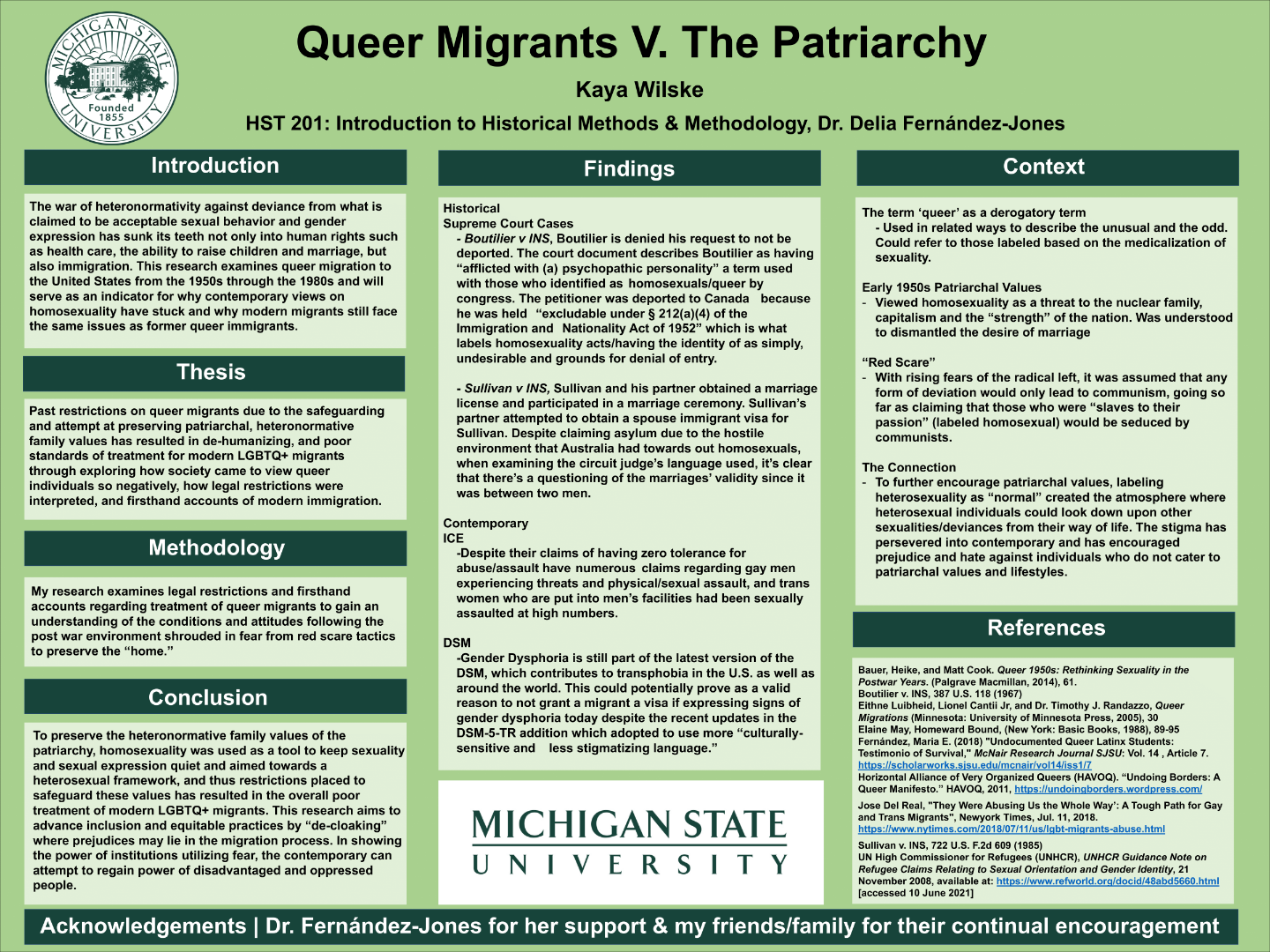 Kaya Wilske is a third-year student at Michigan State University pursuing a Bachelor of Arts in History, and minors in Women's and Gender Studies, and Theater. They study the effect of capitalism on gender and sexuality during the colonial period, and its implications on modernity. In their spare time she enjoys baking pies and watching reality television.