2023 International Awards: Sydney Kelly and Maeve O'Hare
Homer Higbee International Education Award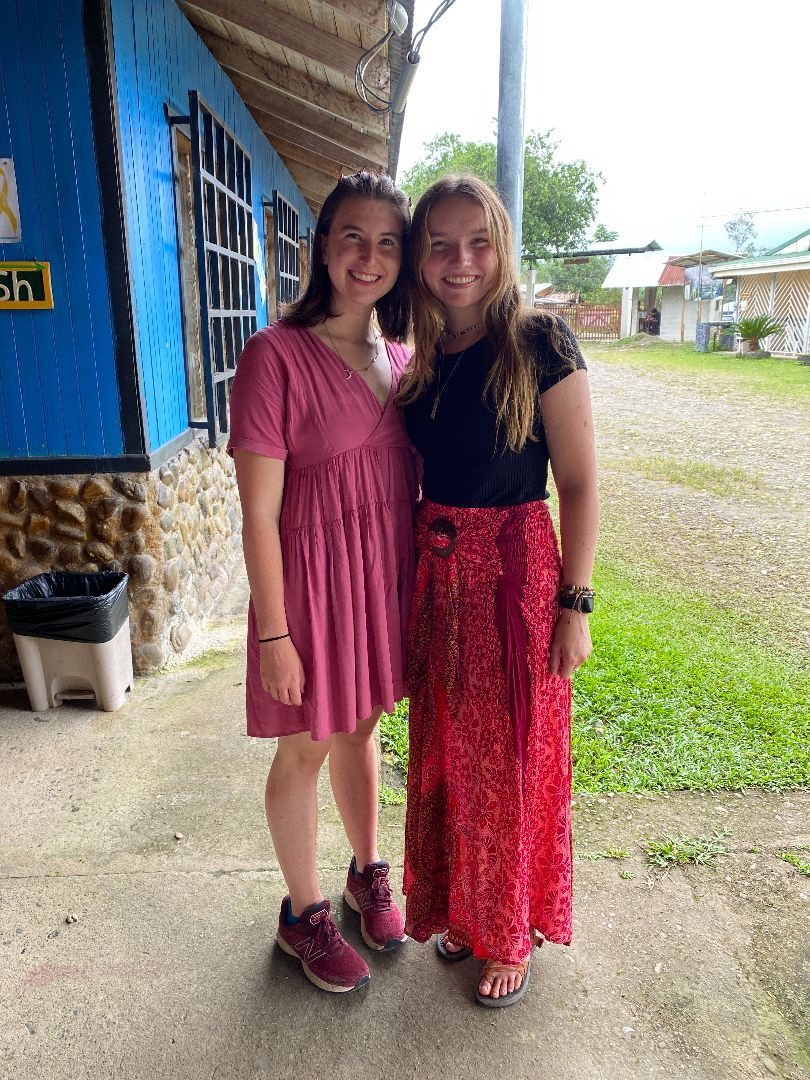 Sydney Kelly and Maeve O'Hare are 2023 recipients of the Homer Higbee International Education Award, which is presented to MSU students and volunteers who have made significant contributions to the advancement of international communication, understanding and cooperation through service.
Kelly, a third-year mechanical engineering student and O'Hare, a third-year environmental studies and sustainability student, were part of an intense 12-week community participatory research program in Costa Rica that provided six weeks of training on the latest engaged research methods, intensive Spanish language and advanced sustainability and post-development theory. This was followed by six weeks of community-engaged research practice in which teams of two to three students were placed across Costa Rica to use community-engaged research methodologies in collaboration with members of MSU RCAH's network of community partners to address critical challenges.
Kelly and O'Hare were placed with the tribal government of the Bribri Autonomous Territory and completed a rigorous, significant, impactful and creative community-engaged research project titled "Community Participatory Evaluation of Youth Identity Programming in Territorio Bribri, Talamanca, Costa Rica," which is slated to be forwarded to the government for implementation.
Sydney Kelly
Sydney Kelly is a mechanical engineering student with a minor in Spanish who has a passion for sustainability and creativity. Kelly is a student technical assistant at MSU Infrastructure, Planning, and Facilities, where she works to improve her engineering and problem-solving skills. She is also an active mentor in Women in Engineering.
To gain experience with renewable options and improve her engineering skills, Kelly is a member of the MSU Solar Racing Team. Working on projects for the club has given her meaningful experience working with engineering design and manufacturing, alongside like-minded engineers with a passion for the environment.
Studying abroad in Monteverde and Bribri, Costa Rica provided Kelly with a unique experience of studying sustainable development challenges through qualitative, community-based participatory research.
"Being a Global Spartan means connecting with people with diverse experiences and different cultures to learn from each other and collaborate on solutions together." - Sydney Kelly
Maeve O'Hare
Maeve O'Hare is a third-year student with an Environmental Studies and Sustainability major and a minor in Science, Technology, Environment and Public Policy. She is focused on community engaged projects and initiatives both educationally and professionally. O'Hare is vice president of Sustainable Spartans, a club that works with community members, university staff, and students to build a more sustainable campus through different projects and educational outreach programs. This has led her to building a strong passion for working within communities to create change.
After working on the community participatory research project in Costa Rica, O'Hare learned to build personal relationships in cultures that were unfamiliar to her and recognize how culture intertwines with various community interests regarding sustainable development. These experiences have inspired her to look deeper into her own cultural experiences to share with others, influenced how she views sustainability on a global scale, and sparked an interest in working in communities across the globe.
"Being a Global Spartan means recognizing and embracing cultural differences to help create positive lasting impacts and connection between oneself and the
communities Spartans serve." - Maeve O'Hare
Kelly and O'Hare were nominated by Vincent Delgado, director of the Residential College in the Arts and Humanities' Program on Sustainability in Costa Rica. "O'Hare and Kelly's project, 'Community Participatory Evaluation of Youth Identity Programming in Territorio Bribri, Talamanca, Costa Rica,' not only will raise the standard for future community research projects within RCAH's network of community partners across Costa Rica, but is also certain to change policy and the funding of mental health and youth identity programming," said Delgado.