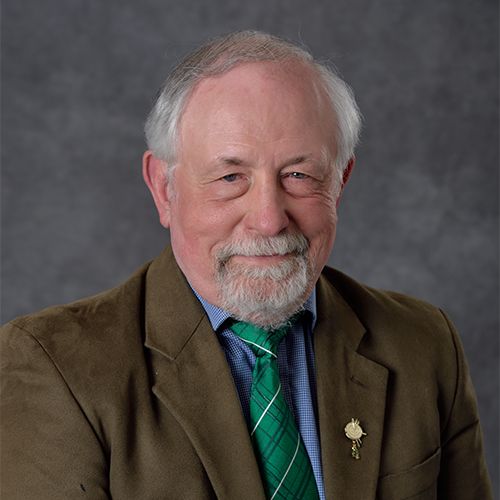 Norman A. Graham is the 2023 recipient of the Ralph H. Smuckler Award for Advancing International Studies and Programs at MSU, which recognizes long-term, distinguished achievement in the promotion and advancement of international scholarship, teaching and public service.
Graham is professor of international relations at MSU's James Madison College, and served for 30 years as director of the university's Center for European, Russian and Eurasian Studies. His teaching focuses on international economic and security relations and sustainable development in Europe and Eurasia.
Throughout his career, Graham has helped establish and direct several MSU education abroad programs, including International Relations in Brussels; Economic and Political Transition in Eastern Europe; and Environmental Science and Policy in the Eastern Mediterranean Basin. These programs fostered collaborations among a number of global institutions, including the Université Libre de Bruxelles, the European Union and NATO as well as Greek and Turkish universities and research institutes.
Graham's publications include ten books and numerous articles. Most recently, he published Making Russia and Turkey Great Again? Putin and Erdogan in Search of Lost Empires and Autocratic Power with Folke Lindahl and Timur Kocaoglu. At present, he is engaged in a series of multidisciplinary studies with several MSU faculty members from the Colleges of Engineering, Agriculture and Natural Resources, and Social Science; and universities in Kazakhstan, Türkiye, and Uzbekistan on the water-energy-food and land use nexus in Eurasia.
Prior to joining the MSU faculty, Graham served as a research associate with the United Nations Institute for Training and Research and as a senior research associate and manager of international technology studies with The Futures Group on a variety of projects on the Soviet Union, India, Pakistan, Nepal, and Egypt. He earned a Ph.D. from Columbia University.
"As a Global Spartan now for 35 years, my teaching and research have been enriched in so many ways by the relationships I have formed through numerous student and faculty exchanges and collaborative scholarship throughout Eurasia." - Norman A. Graham
Graham was nominated by Sherman W. Garnett, a professor in James Madison College. "Professor Graham's character and ways of working with colleagues has made an impact—whether measured in the hundreds of his students now doing international work in the public and private sectors. Or the many linkages created between MSU and international universities and research institutes. Or the many successes in European and Eurasian studies at MSU and beyond," said Garnett.
Read more about Graham's work: